Council Highlights – August 23, 2022 
Posted: Aug 26, 2022      |      By: Corporate Services
Council Highlights – August 23, 2022 
Posted: Aug 26, 2022   |   By: Corporate Services
Meeting Date: Tuesday, August 23, 2022
Mayor's Report
Mayor Law issued a warm welcome to Deborah Bodnar, the new Director of Corporate Services and Financial Officer for the District of Tofino.
The Mayor also provided an update on his involvement on the Unauthorized Camping Working Group, which detailed ongoing activities that have been successfully reducing illegal camping incidents on the Kennedy Lake backroads.
The Mayor concluded by noting that three meetings remain until the end of the Council term, after which the newly elected Council will have their inaugural meeting. Mayor Law reminded fellow Council members, staff, and participants to adhere to meeting procedure protocols as set out in the District of Tofino Meeting Procedure Bylaw No. 1229, 2016.
Lastly, the Mayor spoke to his recent attendance at the West Coast Chiefs, Chairs, and Mayors Regional Planning Meeting held in Ucluelet on August 9, 2022, and noted his positive experience working with representatives from across the region who are committed to improving their communities.
Presentations and Reports
Tofino's Water System Overview
Council received a presentation from Fraser Work, Professional Engineer, detailing the current capacity of Tofino's water supply. The presentation included 2021 usage patterns and system capacity, future supply and demand projections, and risk mitigation priorities.
Development Variance Permit No. 05-22
Council authorized staff to issue a development variance permit for the property at 320 Tonquin Park Rd to increase the maximum height of a caretaker cottage and accessory building from 8m to 10.2m.
Regional Recreation Planning
Council resolved to not support the West Coast Multiplex's proposed Memorandum of Understanding regarding ownership, partnering, planning, construction and operating the West Coast Multiplex. Instead, Council resolved to refer a future discussion regarding regional recreation planning to Council's next strategic planning session, and that the District meet with regional governments to discuss regional recreation plans, priorities, and opportunities.
Delegations
BC Hydro
Representatives from BC Hydro delivered a presentation regarding capacity upgrades planned for infrastructure servicing Tofino, including growth and demand projections, an overview of poposed vegation work, and a timeline for project milestones and anticipated completion date.
West Coast Multiplex Society
Samantha Hackett, Chair of the West Coast Multiplex Society, presented Council with a request for support in the form of a Memorandum of Understanding for an arena and pool wellness facility on the West Coast, and included background information on the project to date, an integration of the facility construction phases, and capital funding and grant opportunity details.
Agenda Items
2022 Council Grant Awards
The second call for 2022 Council Grants were awarded to the following recipients:
Redd Fish Restoration Society
Westcoast Community Resource Society
British Columbia Conservation Foundation
Strawberry Isle Marine Research Society
Surfrider Pacific Rim
Special Event Permits
Council authorized staff to issue special event permits to the following events:
Clayoquot Salmon Festival
End of Summer Concert
International Coastal Clean-Up Day
Other District News
The District of Tofino will be beginning construction of the Wastewater Treatment Plant (WWTP) within DL117 (Industrial Way area) in early Fall, 2022.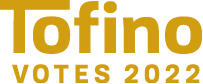 On Saturday, October 15, 2022, local governments across British Columbia will hold general local elections to vote in Mayor and Council.
Previous Council Highlights
Mayor Law dedicated his Mayor's Report to George Hubert, who previously served close to four decades as an employee with the District of Tofino.
View full highlights